Connecticut Exports Down in 2019 But Still Above 2017
By Laura Jaworski, Office of International and Domestic Business Development, DECD
To assess Connecticut's export status, The Connecticut Economic Digest conducts an annual review of the state's export performance. A review of the state's 2019 export position follows.
National
Two notable events impacted trade in 2019: the Boeing 737 Max production shutdown and tariffs. Boeing is the largest U.S. exporter, and commercial aircraft is the biggest U.S. commodity export. The 737 Max, which went from slowed production to complete suspension, continues to have ripple effects. Not only did the biggest supplier to Boeing, Spirit AeroSystems, lay off 2,800 people, but the suspension will have likely ramifications on industrial production, trade, GDP, the aerospace supply chain and delivery of parts and inventory.
U.S.-China trade friction dominated the headlines for a good part of 2019. The back and forth imposition of tariffs clearly impacted certain sectors. After a long period of negotiation, Phase I of the Economic and Trade Agreement between the U.S. and China was signed in January 2020.
It should be noted that while news of the COVID-19 coronavirus began to circulate in late 2019, its impact is expected to be reflected in 2020 data.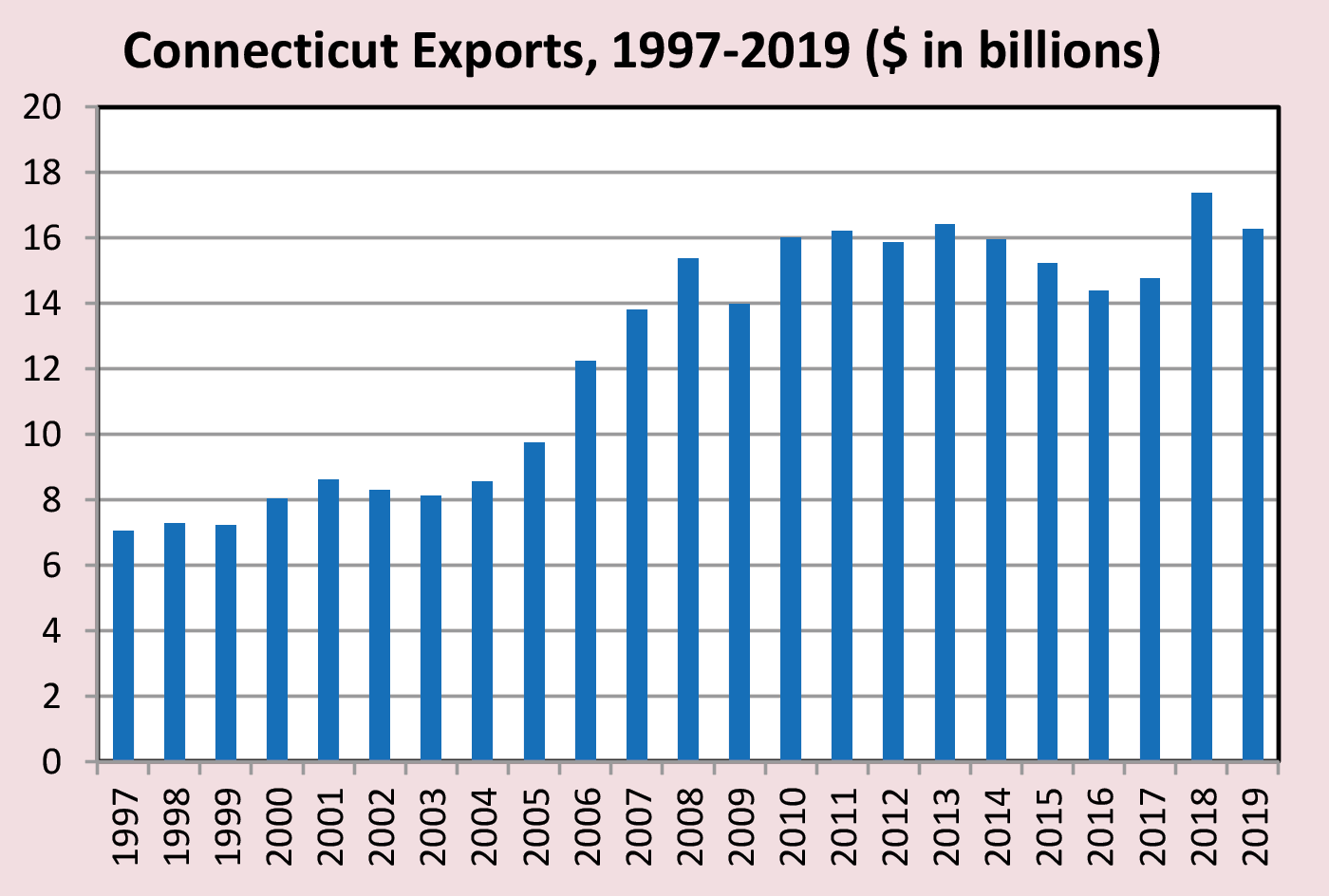 Connecticut
In 2019, Connecticut's commodity exports totaled $16.28 billion, a 6.41% decrease from the $17.40 billion registered in 2018. It is important to note, as significant as commodity exports are, they omit service exports, for which the collection of data is inexact and unavailable at the state level. All U.S. states face this data gap. This means that export figures for a state like Connecticut, with a large concentration of insurance, financial and other services, understate the true magnitude of its overall export value.

Data indicates that 4,944 companies exported from Connecticut in 2016. 89% of these companies were small and medium-sized enterprises (SMEs) with fewer than 500 employees. In 2016, 65,140 U.S. jobs were supported by goods exported from Connecticut.

In 2019 Connecticut dropped one spot and ranked 28th in the U.S. in state-by-states exports. Texas, California, New York, Louisiana and Washington were the top five export states in 2019, ranked in terms of export commodity dollars. New Mexico led all states in percentage growth and experienced a 31.16% increase in 2019, largely driven by a surge in computers and computer parts.
U.S. Exports
U.S. commodity exports experienced continued growth in 2019 and totaled more than $1.64 trillion in 2019, representing a 1.25% decrease over the $1.66 trillion recorded in 2018. Due to geographic proximity, it should come as no surprise that Canada and Mexico were the top two destinations for U.S. exports in 2019 followed by China, Japan and the United Kingdom.
New England Exports
In New England in 2019, only Massachusetts' exports value ranked higher than Connecticut's. As a regional trading block, New England's commodity exports totaled more than $56.64 billion in 2019, a 2.39% decrease from 2018. The top five export destinations for New England commodities were Canada, Germany, the United Kingdom, China and Mexico.
Connecticut Export Composition
Connecticut's top export commodities mirror the state's advanced manufacturing strengths and there is a demonstrated consistency among the state's top exports. 2019 was no exception. Last year at the two-digit Harmonized System (HS) commodity code level, Connecticut's top five export commodities were (1) aircraft, spacecraft and parts thereof; (2) industrial machinery, including computers; (3) optic, photo, medical or surgical instruments; (4) electric machinery, sound equipment, TV equipment, parts and (5) special classification provisions, Nesoi. The bulk of special classification provisions were composed of exports of repaired imports. Please refer to the associated charts for greater detail on the state's export strengths and composition.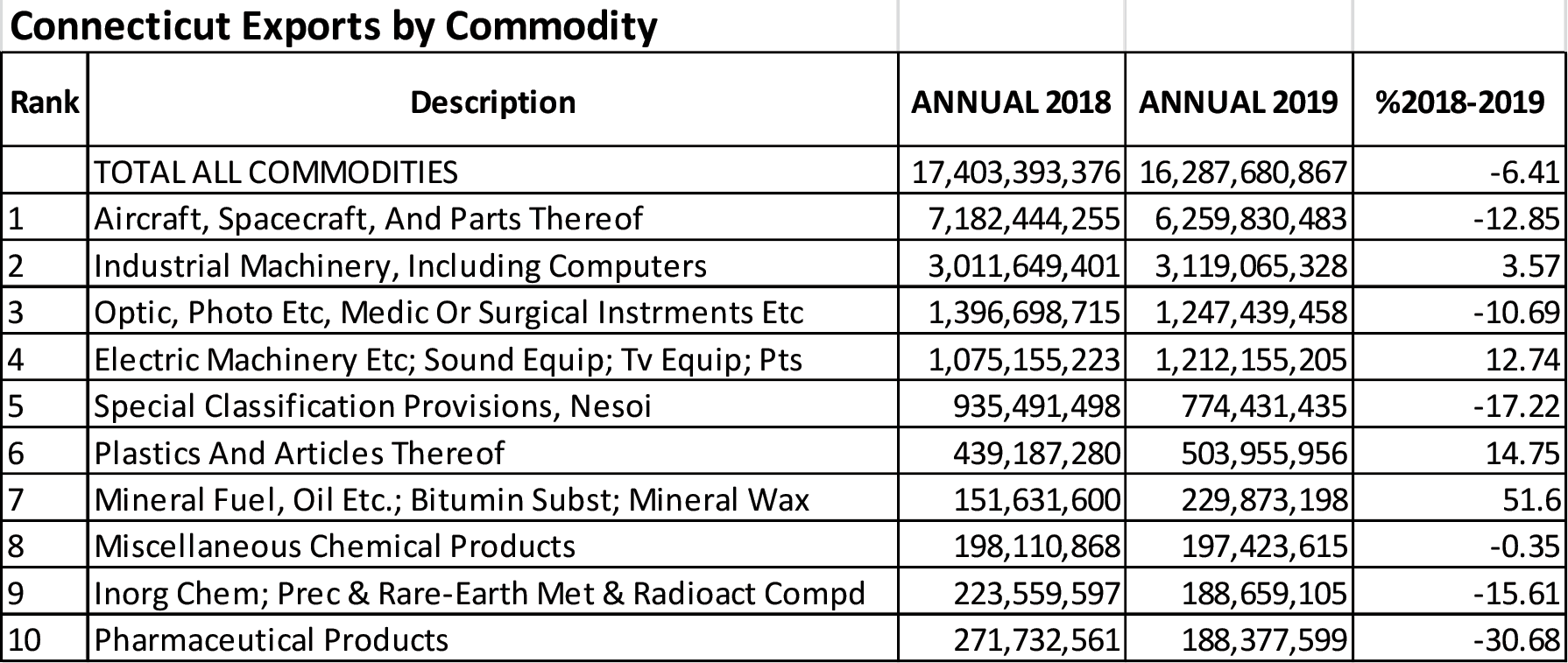 Drilling down an additional layer into the HS commodity codes for greater export insight reveals the transportation sector's dominance of Connecticut exports in the aerospace and defense industry. At the four-digit HS level, the state's top exports included civilian aircraft, engines, parts; exports of repaired imports; and turbojets, turbopropellers.
To put these figures into national and regional context, the U.S. and New England states' top export commodities were similar to Connecticut's. In 2019, the top five U.S. export commodities were (1) industrial machinery, including computers; (2) mineral fuel, oil, bitumin substances, mineral wax; (3) electric machinery, sound equipment, TV equipment, parts; (4) aircraft, spacecraft and parts thereof and (5) vehicles, except railway or tramway, and parts. In 2019, the New England region's top five export commodities were (1) industrial machinery, including computers; (2) electric machinery, sound equipment, TV equipment, parts; (3) aircraft, spacecraft, and parts thereof; (4) optic, photo, medical or surgical instruments and (5) natural or cultured pearls, precious stones, precious metal clad materials, imitation jewelry and coins.
State Export Partners
The state's top ten commodity export destinations were Germany, Canada, France, the United Kingdom, China, Mexico, the Netherlands, Singapore, Korea and Japan. Connecticut exported over $1 billion to each of its top five trade partners in 2019, with over $2.54 billion directed to Germany. Among the state's top ten partners, only Germany, China, the Netherlands and Korea experienced export increases, the most significant percentage increases belonging to China (33.86%) and Korea (12.43%).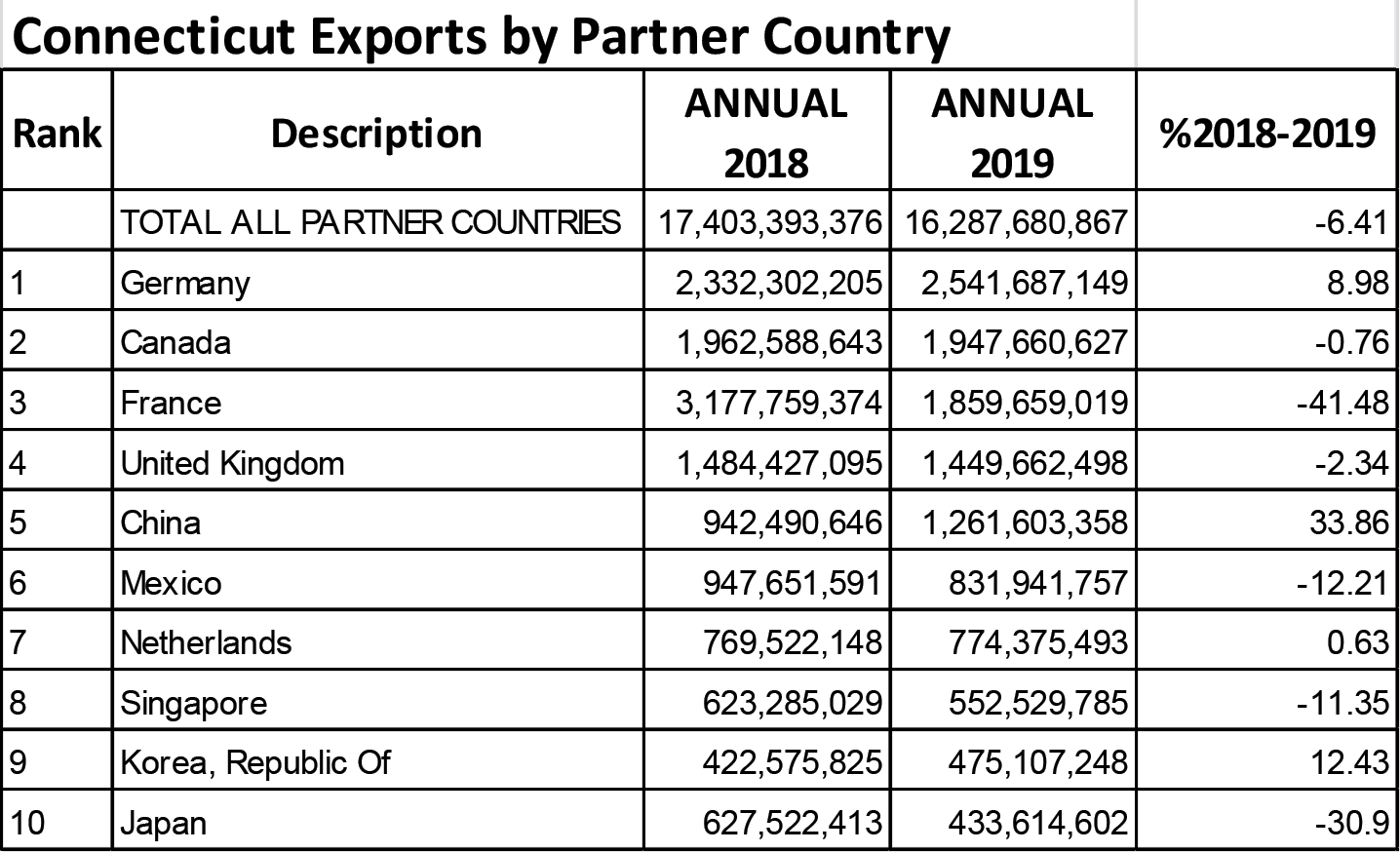 State Trade Expansion Promotion (STEP) Grant
The state and federal government continue to partner to help Connecticut companies take advantage of export opportunities. DECD administers a State Trade Expansion Promotion (STEP) grant award from the U.S. Small Business Administration (SBA). The program's goals are to increase the number of small business exporters and increase export sales. In conjunction with organizations such as the local U.S. Department of Commerce Export Assistance Center (USEAC), the Small Business Development Center (SBDC) and others, DECD directs STEP funds towards small businesses for export development and training opportunities, company participation in foreign and domestic trade shows and trade missions, website translation, as well as other export initiatives and events.
For more information about DECD's international programs and services, including STEP grant activities, eligibility standards, program guidelines and application procedures, please contact Laura Jaworski at 860-500-2368 or laura.jaworski@ct.gov.
1 WISER database, http://www.wisertrade.org.
2 "Connecticut Exports, Jobs, & Foreign Investment," U.S. Department of Commerce International Trade Administration, https://www.trade.gov/mas/ian/statereports/states/ct.pdf Feb. 2018.